Hello All!
I know summer is approaching and we all want to eat uber healthily but I come to you today with the UKs solution for the perfect fried chicken fix.
WISHBONE
It is located at my new foodie spot,
Brixton Village
embedded within Brixton Market on Coldharbour lane. Brixton village is buzzing from Thursday to Saturday. My friend and I after a long day of pursuing the shops decided to grub, after deciding on Brixton as our usual Steak spot in Clapham was full, we opted for Wishbone.
We walked through the village and we were seated. The menu was very simple consisting of Chicken, Burgers, Chicken Sandwiches. The chicken here is special: Free Range.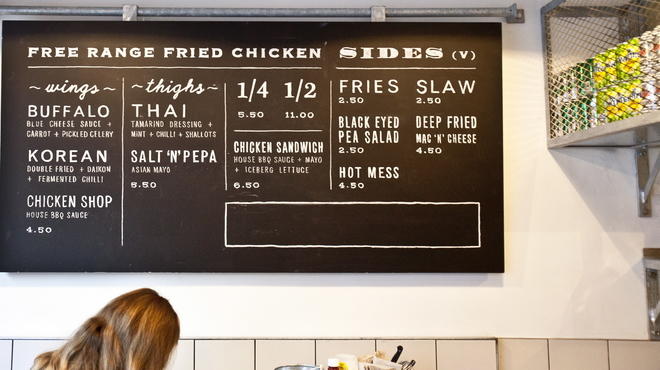 Wishbone Menu
I went for the Chicken Shop Wings, Deep Fried Mac N Cheese and a side of Slaw along with a can of Ginger Beer. My friend was more adventurous with the Korean wings, fries and of course the Deep Fried Mac N Cheese along with a can of Ting.
Ok, so when the food arrived the wings were huge, the Mac N Cheese was bubbling, what was little expectation sure became delight as I smelt the feast.
The Chicken Shop Wings were crunchy not greasy and extremely tasty and the BBQ sauce that accompanied it was special,
SO GOOD
. And the wings were huge! What was the real winner for me though were the Deep Fried Mac N Cheese. If you don't have a love for fried chicken, or chicken in general you must visit Wishbone for the Mac N Cheese. Its like biting into cheese heaven. So sinful yet so good. The deep fried breaded crust encasing the creamy yet cheesey macaroni!!
My friend's wings were delicious, the sauce perhaps overbearing for the 5 wings but definitely tasty!
Chicken Shop Wings + House BBQ Sauce
Deep Fried Mac N Cheese
Korean Double Fried + Daikon Wings + Fermented Chilli
Oozing Gooey Mac N Cheese
Everything was good we left satisfied, the slaw which I actually forgot about due to being in grease heaven, was not up to par. It was somewhat bitter. So next time I would skip the slaw and go for the greens instead.
A rare but essentially spot for pure gluttony. Miles above Meat Liquor for sure.